It's very lucky that our fleet includes smaller vehicles, like a small removals van and a ute, because some days doing furniture removals is easy; everything is flat, the job as a whole is well packed, and the sun is shining!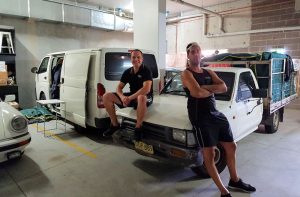 But then, some days, things can be a little more complicated!
For instance, we recently carried out a job in which we had to move everything using a small removals van and a ute!
The apartment we were moving was located on a busy road with a clear-way both morning and afternoon. On the plus side, the drop-off point was just around the corner.
Both locations had a 2.2m restriction height in the garage, so there was no way we would be able to use a normal sized removals van.
How we solved the problem: a small removals van & ute
Having spoken to the customer about what she had to move, I decided that using a ute & van in combination would be the best way to do this.
Both vehicles could fit in the underground car-parks, and even better, park right next to the lift which made the walking distances minimal. We were also not burdened with having to find parking for a truck, and then walking to it whilst carrying furniture.
We managed to fit everything in two trips taking a total of 4 hours, and this resulted in yet another very happy customer!
Access Removals – a solution for every problem!
If you have a restricted access removals job, please get in touch with us on 0420 908 290, or complete the form on the right.