The word packing can refer to many different aspects of furniture removals. However, when we talk about packing, we usually mean the placement of items into packing cartons for the purpose of moving. Though many of our customers will do this themselves, it is a service which we both provide, and enjoy!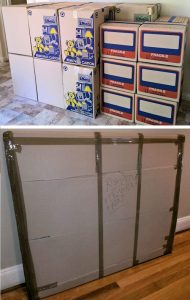 Some of the time we will be asked to pack the whole house, but other times we will be asked to pack a few things. Most of the time we will be doing the moving, but on occasions, we don't, having only been hired to do the packing.
If you are considering hiring a packing or moving company to pack for your move, we would say, 'go ahead!' – it is a lot more affordable than you think!
Here are some good reasons to have some professional packers in before you move:
Time
As professional box packers, we are probably quicker at packing boxes than you. We also don't have the sentimental attachment to items and are much less likely to get distracted when we 'see something we haven't seen for a long time!'
Packing Costs
OK, yes, we do charge $99.00 per hour for two packers and usually have a 2.5 hours minimum. However, with respect to the rest of the packing materials, if you are going to be moving, you will need boxes anyway! Having a well organised home for the move can mean a reduced time for the move itself, plus you will not have to spend the time packing after work or on weekends.
Stress
Moving can be stressful. Having a well organised house that is perfectly ready to move can help make moving day itself less stressful. Also, part of the stress comes from getting ready to move, having a helpful team to prepare everything for you means one less thing for you to do!
Special attention &/or special materials
Some items may require special attention or specialist materials to safely prepare them for a move. Whether this is acid-free tissue paper for lead crystal, paper-backed bubble-wrap for oil paintings & large canvases or simply removals plastics for mattresses or lounges, sometimes these are tasks better undertaken by professionals. And, if you need some specialist materials and already have some packing organised, it's a lot better to do this the day before the move.
Packing a two-bedroom Sydney apartment
For the most part, we are seldom called in to pack anything less than a two-bedroom apartment. This particular pack was for an apartment in Erskineville for which we were going to be moving the following day. The customers had packed a few cartons themselves before our arrival, and, in addition to this, some of their cartons were not unpacked from the previous move!
As far as two-bedroom apartments go, this one did have a large inventory (~30 cubic metres), however the amount we had to pack was pretty standard as we some things were already packed!
On the day of packing, we were let in to the building and had a quick tour of the apartment. As they were going to be staying there that evening, there were a few things that we were instructed not to pack and these items were placed on the main bed whilst kitchen items needed were left in the dishwasher. The customer had things to do whilst we packed so after giving us the tour they left for the day, to come home to a fully packed apartment
All our removals cartons are standard size removals cartons which both makes their transport easier (for carrying or trolleying purposes) and are all double ply made from recycled cardboard. We also offer a rental system for cartons whereby we will buy back and reuse any cartons we sell to you. This obviously makes it cheaper for you and you don't end up with a load of cartons to dispose of…also, it's better for the environment!
If this hasn't sold you on getting your home packed, give us a call and we will try our best to convince you it's the best option 🙂
Packing only costs (two-bedroom apartment):

The customer was later provided with a refund of $172.00 for returning all the used cartons. The cartons were charged at full price to the cost of the packing and were bought back at the sale price less $1.10 per carton.
Please be advised that these prices were accurate at the time of posting this case study. The hourly rate is subject to increase over time as well as the cost of materials may increase.
This is a case study so though may be an average representative of the case at hand, precise timing and other costs will vary with every job.