At Access Removals we understand that moving home can be stressful and expensive. Our removalist prices are quite simple: we generally charge by the hour for our services.
This means the longer the job takes, the more it costs. We try to complete your job as swiftly as possible to minimise costs to you. The main things that will affect the time a job takes are:
Access at collection and drop off point
The number of items to be moved (any difficult items)
The distance to be travelled
How prepared you are
How access can affect the time on the job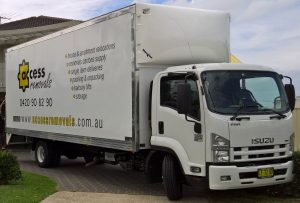 Stairs: any stairs that we have to go up will take longer than level access. If there are no stairs we can wheel everything on flat trolleys. Whilst we like to think we're pretty fit, it will take longer to travel a flight of stairs than in a straight line
Lifts: having a lift at an apartment may seem like it will save time, however it often leads to double handling if we do not have exclusive access. Time is sometimes lost waiting for lifts to arrive and how far from your property and the truck the lift is.
Walking distance: Long driveways can present a problem if they are too steep for our trucks and can also be tricky if a complex does not allow parking close by. In short, the closer we can get our truck to your property the better.
The amount of goods to be moved
Every property is different and some places have a lot more furniture than others. The more there is in a property, the longer it will take to move. We recommend you downsize possessions before your move and not after.
The distance travelled
Local moves will always take less time than a similar sized move travelling a greater distance. It may also affect whether we charge additional travel time to cover our return drive to base.
Being ready for the move
A property that is packed and ready to go with clearly marked cartons makes for a much swifter move. The clearer you can be, the quicker we can move.
We understand some items are more valuable than others. Please let us know in advance of any particular items requiring specialised care, or any item that you believe may be difficult to move.
Please let us know in advance if you require packing so that we can have any necessary materials with us.
Sydney Removalist prices guide
Every move is different, however the tables below show a compilation of the data we have gathered since 2010. Please note this should be used as a guide only:
Apartment Removalist Prices
1 bed apt (3-4 hours*) – $550**
2 bed apt (4-5 hours*) – $750**
3 bed apt (6-7 hours*) – $1550**
House Removalist Prices
2 bed house (4-5 hours*) – $700**
3 bed house (5-7 hours*) – $1250**
4 bed house (7-8 hours*) – $1750**
*these average times for Sydney Removals are based from our compiled data. Moves with lots of stairs, a slow lift or a long walk will take longer than moves with straight forward access
**these average costs represents the average of what our customers have paid for moving apartments & houses of this type and should be taken as an indicative cost only.
As a guideline, we usually send 2 removalists for a 1 or 2 bedroom place. Many 2 bedroom places will be better with 3 removalists and we usually always send 3 removalists for a 3 bedroom place. Large moves such as 4 or 5 bedroom houses are often better quoted beforehand so an appropriate number of staff members can be supplied.
We hope that this information provides useful for when planning your move.
Short prices FAQs
How much does a removalist cost Sydney?
Every move is different, however we can give you a rough indication for Sydney area removalist costs. Please note this is a guide only. A 2 bedroom apartment can take around 4-5 hours and cost about $770. A 3 bedroom home can take 5-7 hours, and cost around $1100.
Is it cheaper to buy new furniture or move it?
If you're moving within the local area, you would probably be better off to keep your current furniture. Local moves are considerably less expensive than longer moves, so you need to take that into account if you are moving along distance and possibly use that as an excuse to update your furniture.
How many boxes do I need for a 3 bedroom house?
A three bedroom home may require up to 30 medium size boxes, 25 large boxes, and roughly 12 extra large boxes. Your Sydney area removalist will be bale to give you a batter guide with a free quote.