Matt has been working with Access Removals since the business started, however he is young and as such he had a lot to learn about the removals industry (both in terms of skills and how to run a job). Matt is already an extremely good removalist; but at Access Removals we have very high hopes and expectations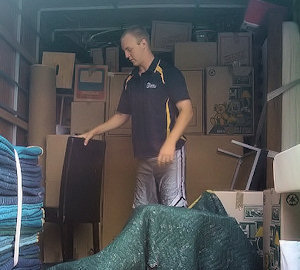 This Manly removals job, a 'pack and move', was for a three bedroom house and I decided to give him the run of the job and to let him play the boss for the day. Whilst one of the three man crew was inside packing, Matt was on the truck, putting what he'd learned in to action and shouting out orders at me saying I'd brought out the wrong sized box, or that he didn't want such and such now… perhaps it was payback for the number of times he had been told that it was HIM who had brought the wrong thing and that he wasn't working hard enough!
As the property was rather large and involved packing as well as removals from Manly to Seaforth, we had recommended to our client that they use a three man crew.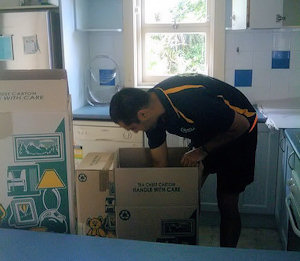 Matt instructed one of the removalists to start in the kitchen (normally this room will take the longest to pack), whilst I started packing the bedrooms. Matt put himself in charge of 'single carries' and the loading of boxes onto the truck as they were ready.
Often with a packing job a removalist will pile boxes up as they are packed, ready to be taken to the truck, however for a pack & move it often makes more sense to take the cartons straight out to the truck. Leaving boxes in a pile is fine when you are coming back the following day for the move, however when it's all on the same day, it can lead to double handling, especially when the boxes can be piled straight on to a trolley to be taken out to the truck.
Due to the size of the property and the number of items to be moved Matt chose to complete the job in two moves so as to ensure the loose items were given sufficient space in the truck to avoid damage. I was personally impressed with how Matt ran this job, the care he took with the client's items and the record time set of 5 hours. He certainly set a new bench mark for future three bedroom pack and moves!
Manly removals example: Pack & move of 3 bedroom home:
Total hours: 5
Hourly rate: $150.00 per hour
Cost of materials: $177.00*
Total bill: $927.00
* A refund of $93.00 was issued for the return of packing material.
Please note: the above costing is provided as a guide only and all relocations have different requirements on time and materials.