This Northern Sydney customer, looking for Hills District removalists,  came to us as a referral from another satisfied customer. The move was from Wollestonecraft in Northern Sydney to West Pennant Hills in the Hills District – a three bedroom apartment to a four bedroom house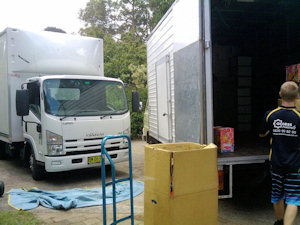 An average three bedroom property will fit into one of the Access Removals trucks without much hassle, however due to the distance involved, I decided to have a look at the move. Though there was not a massive amount, so I decided it was better to use two trucks, rather than doing two separate loads! There were not any problems with the access at the pick-up address, so a single larger truck could have worked as well, though there may have been issues parking!
Most of the apartment fitted in to the first truck without problems, though we did have to do a balcony lift to get the dining table out! This left the garage items, some packed boxes, a small amount of furniture and any spare removals cartons for the second truck. As we were using two trucks, the first truck was parked in pole position whilst it was loaded, swapping with the second truck when complete. Despite one truck having a tail-gate lifter, we put the piano on to the truck without, as due to our creative parking, the ramp was flat up to the truck.
With the two trucks loaded, we drove off to the drop-off in convoy with the customer to West Pennant Hills. As it happens, the property at the drop-off was a battleaxe block down a narrow 100m driveway which posed no problems for our two smaller trucks which we parked nose to nose so that each could be unloaded through opposite entrances to the house. A single larger truck however would have had difficulties getting fully down the driveway which would have resulted in more work for us and greater cost for the customer.
All in all the move progressed without a hitch and the customers were not only very happy with the service received but have continued the referral cycle, passing our telephone number on to their friends as well!
Hills District removalists – two trucks, three removalists:
Total hours: 6.5
Hourly rate: $135.00 per hour*
Piano move: $180.00 flat fee
Total bill: $1057.50
*A discount of 10% was provided off the hourly rate as the customer was referred to us. There was no additional charge for the second truck and the move was carried out at the standard rate for three removalists.
Please note: the above costing is provided as a guide only and all relocations have different requirements on time and materials.