We seem to perform quite a few moves for two bedroom apartments than any other kind of apartment removals Sydney. Does this mean there are more two bedroom flats in Sydney, or just our particular demographic, that being small moves?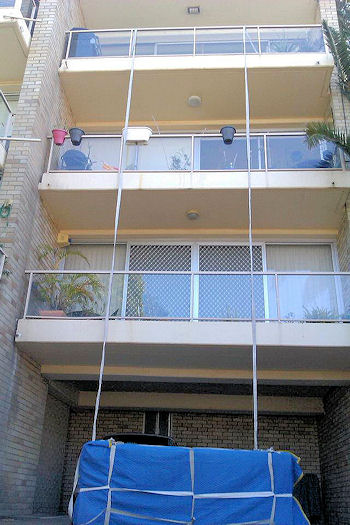 Regardless, what it does show is that we are well experienced in apartment removals and relocations, and that we have the knowledge to best perform your move.
Apartment removals are probably the easiest kind of jobs for removalists in Sydney. Yes, there are a few massive penthouses, however the majority of apartments have a similar volume and will contain similar items. This means that they are very predictable moves and relatively easy to make averages for.
The table below shows average times for moving apartments of different sizes less any travel time applicable. We generally charge $170.00 per hour (with 2 removalists), though detailed information can be found under our pricing tab:
1 bedroom apartment: 3-4 hours total removals time
2 bedroom apartment: 4-5 hours total removals time
3 bedroom apartment: 6-7 hours total removals time (usually with 3 removalists)
Access should also be considered in these estimates. For example, some apartments have lift access whilst others have stairs. The time varies with the total contents of the apartment and the access at the pick-up address and destination property; a top floor unit that is accessible only via stairs may take as long as a 21st floor apartment with an exclusive lift, but both will take longer than a ground floor unit!
When moving on an hourly rate, making sure your apartment is well prepared for the move will always facilitate a swift and easy relocation.
What this means for apartment removals Sydney:
Making sure everything that is to be taken by the removalists is clearly marked and well packed. Lots of small loose items will add to the total time in comparison to a move where everything is packed in to standard sized removals cartons. Clearly labelling cartons will ensure that time is not lost at the drop off address asking where cartons are to be placed
Organising what is to be taken by the removalists and if there is anything you will be taking yourself, or left behind. Part of this is also having a firm plan of where furniture is to be placed at the drop off
Having a suitable space to park the truck for loading and if possible, unloading, Also organising any specific arrangements with the building management, such as exclusive lift use or padding for lifts, prior to the removalists arrival
Packing your apartment contents in to standard sized removals cartons makes the removals process a lot simpler. Using two or three standard sized removals cartons (T-chest, book, crystal, Port-a-Robes) means that your home contents is packed into manageable sized objects specifically designed to be carried by removalists. While you may think that you can save a lot of money by acquiring free boxes from stores, markets or friends, using the rental cartons from Access Removals can actually save money on your move, by reducing the total time spent carrying items and time packing the truck
By being prepared when moving your apartment, and taking steps to ensure a swift relocation, moving apartments can be easy. Please either call us or compete the quote request form down the side of the page to discuss with a relocations consultant about your move.