A sunny day in Sydney, a stunning location in Elizabeth Bay and another day moving with Access Removals. Having visited the site prior to the relocation to scout out the job and to do some home contents packing, our team knew we were in for quite a day!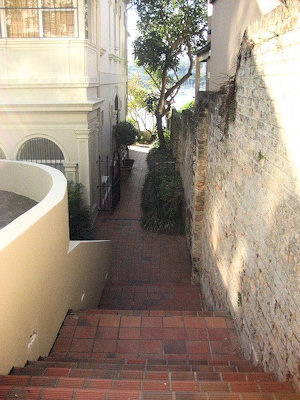 A quick count revealed a daunting 62 external stairs down to a 3 bedroom apartment plus another 8 stairs up once through the security door. Oh, and did we mention that it was a split level apartment with an internal flight of stairs up and down…?
This move had the potential to be a nightmare of a job!
Using an enclosed van as a ferry vehicle our team was able to cut out the vast majority of the stairs by driving to the lower level car park.
Using a ferry vehicle saved our client a lot of time as moving the numerous boxes up the stairs would have taken longer. Not only saving time, it reduced the work that the team had to do; tired removalists running stairs don't work quickly for the whole day!
While the use of our ferry vehicle generally saved time on the move, we left our main truck parked up on street level, close to the exit of the main staircase to ensure that loose items could be taken straight up without delay. This improved efficiency and meant more space in the ferry vehicle for easily packed boxes.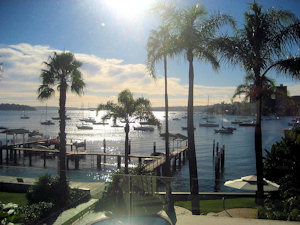 While some smaller items of furniture were placed into the van, the larger 'two-man-carry' items that went straight up including a queen sized mattress, a three-seater lounge and a very oversized painting (expertly wrapped by our team for protection).
From Elizabeth Bay, items were relocated to a storage facility in Annandale where they stayed. Our company were able to negotiate a special rate for an oversized storage unit which made the process of unloading from the truck easy and meant it took significantly less time than loading did.
After two months items were re-loaded for the short trip to Norton Street, Leichhardt… however, the difficulties associated with THAT move is a story for another time!
Sydney removals example: Split level 3 Bedroom Elizabeth Bay Apartment with difficult access: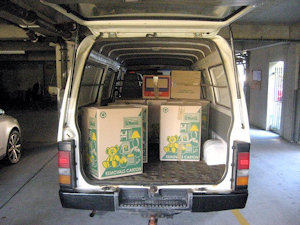 Total hours: 8.5
Hourly rate: $135.00 per hour*
Ferry vehicle: $90.00 flat rate
Total bill: $1237.50
* A 10% discount was provided due to a referral.
Please note: the above costing is provided as a guide only and all relocations have different requirements on time and materials.