Access Furniture Removals proudly only uses moving packing boxes & packing materials supplied by VISY Boxes and More in Sydney, so you know that our materials are not only of the highest quality but also the industry standard in Australia. There are lot of special materials that are available for different situational uses, for example small TV boxes, big TV boxes, boxes for your bikes, boxes for your Nikes… there's even a box you can put a latex mattress in to stop it from wobbling!
To make things simple however, we believe that almost any packing job can be achieved professionally using the following packing boxes & packing materials.
Please be advised, the prices as listed below are our sale prices for the items. Some of our packing materials are available for rental, however please contact us about our box rental / buyback scheme for more details about this.
Moving Packing Boxes Types
T-Chest Carton Dimensions: 406mm x 431mm x 596mm tall
Sale price: $5.95 per carton*

T-chest cartons, also known as standards, are the go-to box for any packing job. They are suitable for large and lighter items.
When packing a bedroom, they would be used for; clothes, bedding, kids toys and anything too large to fit in a small box.
In a kitchen, they would be used for appliances, platters / baking dishes, pots and pans, and anything too large to fit in a small box.
Furthermore, if there are items too large to fit in a single carton, we can always put another one upside-down on top for your mops and brooms!
Book / Crystal Carton Dimensions: 403mm x 301mm x 330mm tall
Sale price: $4.95 per carton*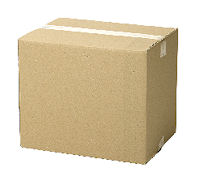 Book / crystal cartons, as their name may suggest, are basically for all the other things that won't go in the T-chest cartons, that is, heavy things and fragile things.
Mostly this would be; books and magazines for the heavy things, however it may be files in a home office or anything else that isn't suitable for the bigger boxes.
In the kitchen, these would be for your plates, glasses, and anything fragile…just as long as there is enough paper to protect the contents!
Port-a-robe Dimensions: 595mm x 479mm x 1106mm tall
Sale price: $25.00 per carton*
The Port-a-robe; my favourite box!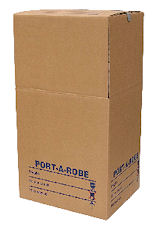 Naturally, this specialised moving packing box is designed for the transport of clothes whilst still on their hangars which can save a lot of ironing at the final destination.
However, they have many other uses besides that! When packing a job, we will often put a lot of looser items that don't fit well in to the smaller cartons. For example; longer tools in the garage (spades, rakes, etc.), oversized kid's toys (Barbie playhouse, Castle Greyskull, etc.), bedding, lounge cushions or anything that won't make the box too heavy!
They are also great for fitting in a load of loose items that will make packing the truck that little bit easier
Picture Carton Dimensions: 1040mm x 75mm x 775mm tall
Sale price: $5.95 each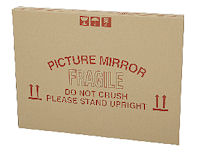 Depending on the size and wrapping of the picture, you can typically fit 1-3 paintings or mirrors in these cartons.
Mirrors and glass fronted pictures should be bubble wrapped prior to be put in the carton. Further to this, crushed packing paper should be used to fill the voids to properly ensure the protection of the contents.
These cartons can also be used for smaller pictures, however, if they are small enough, they should be packed in to T-chest cartons which pack more easily in to the truck.
Book / Wine Carton Dimensions: 406mm x 298mm x 431mm tall
Sale price: $4.95 per carton*
There are a couple of point of differentiation between the book / wine and the book/crystal cartons.
Firstly, the book / wine cartons are a little taller than the book / crystal. This enables larger spirit and wine bottles to be placed in the carton upright.
Secondly, these moving packing boxes come in single-ply cardboard which is less rigid than the double-ply layers of the book / crystal cartons. Whilst this is fine for books, more protection is better for the fragile items.
There is also a 12 bottle polystyrene wine insert available for these cartons, which is useful in relevant situations. This separate product is detailed later in our packing materials page.
Flat Wine Carton Dimensions: 490mm x 325mm x 165mm tall
Sale price: $4.95 per carton*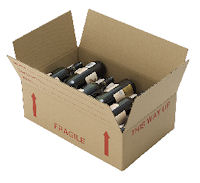 A flat wine carton that will fit 12 standard sized bottles of wine. The carton comes with 2 cardboard inserts that make up the dual layers of the carton.
Please be advised that as the wine bottle lie across the carton, larger / oversized bottles will not fit. There is also not a great deal of protection apart from the cardboard insert.
These cartons are great for the transport of wine, however, I would not be looking at putting the Grange or the Hill of Grace in here!
* All items marked as such are available under our box rental / buyback scheme. The standard rental price is $2.00 per carton, however there are some exceptions to this, such as the rental price of $10.00 on Port-a-Robe cartons.
Moving Packing Materials
Apart from the above moving packing boxes and cartons, we have a range of packing materials available too. Please click here for more information.