We are the Sydney small removals specialists. We operate smaller removals vehicles that can easily fit a standard 1-2 bedroom unit, or terraced house. For small moves especially we charge by the hour, but unlike a lot of other Sydney removalist companies, we don't have unaffordable minimum charges and excessive travel charges. We also offer a service to cover single items or small load such as a fridge or lounge set or even the bargain you found on eBay that simply won't fit in your car.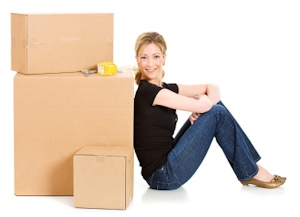 Our smaller trucks allow us to get parked in locations that other removalists may not be able to, down narrow or long driveways or even into underground garages. This means that your small move can be completed with a minimum of fuss as parking closer to your front door means we have less distance to carry your goods, saving time us time, and you money! Parking closer to your front door means we have less distance to carry your goods, saving time in total for your move. Our services are perfect for inner city removals.
For a smaller unit or apartment move, you probably wont need a large truck which many companies would send. A larger truck that cannot fit down your driveway, being charged on an hourly rate, will cost you more and may result in damaged items as the truck is just too large to move your inventory safely.
Sydney small removals & difficult access
There are many large properties around Sydney that lie in areas with small tight streets, where larger removals trucks cannot go. Many parts of Newtown, Mosman, Balmain, Rozelle, Surry Hills, Paddington, older inner-city suburbs or shore front properties are inaccessible to the large removals vehicles that are required to fully move a 3-5+ bedroom house. Other removalist companies may offer use of a transport or ferry vehicle, such as a ute or small van, to 'ferry' your furniture to the large removals truck. This can add significant time to a job and in most situations you will be charged an additional fee for the ferry vehicle.
We take a different approach, and also consider it one of our specialities. Using a small removals truck, we can generally park where the larger trucks cannot reach, so we may be able to get down the long windy driveway, or to the end of the tight inner-city street passed badly parked cars. Though our smaller trucks cannot move a 3-5+ bedroom house in one load, we definitely have options that would help in cutting the cost of your move. If you are moving within the same suburb using one smaller truck, but multiple trips may work better. Or, if you are moving a long distance (or have to be out in one go) we can send two or possibly three trucks.
Hourly removal rates
Access Furniture Removals generally charge by the hour, though we are also able to provide fixed price estimates and removal quotes for a move if this is required. Our staff work fast and efficiently, ensuring the job is completed as quickly as possible, keeping your costs at a minimum.
Please read our 'Removals Pricing' page for our hourly rate and applicable travel times. Alternatively, please use the Contact Us form with any queries you may have.