One of the special services that Access Removals provides is our high balcony lif service.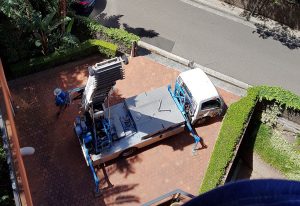 When items don't fit in the lift, up the stairs, or even just through the front door, the only way in may be over the balcony.
Whilst we try to help whenever we can, there are quite a few restrictions on what we can hoist over a balcony, mostly relating to council regulations and safe working practices.
For items that are too heavy, too fragile, going too high, or it is obviously not safe to do, there are always other options.
For example, a rented crane, or the rather nifty mobile platform by King Hoist. No matter how high or awkward the job appears, we can help!
High balcony lift example
Following are a few pictures of a removals job we did recently.
The customers had bought a 2.2 metre tall statue for a house they had planned to renovate. The only problem was that due to a change of plan, they ended up moving in to a 4th floor apartment with a 2m tall lift!
Having spent a small fortune on this piece of art, they really wanted it up there in the apartment to admire. Because the lift was not a viable option (2 metre high lift, 2.2 metre high statue), we called our mate Michael King at King Hoist. The very next day, we had that lift on the job, and the end result was the statue was standing proud and tall in its new home!
So, if you have am item of furniture (or, as in this case, art or sculpture) which you think is impossible to move into your apartment, call the experts at Access Removals on 0420 908 290 and we will work out an effective, but safe, strategy for your particular situation.